Join the Friends of Charnel Mulligan Park!
---

"Honey Forever"
---
Updates 2023
Work Party Schedule
All dates are Saturdays, 12-2pm
April 20
More TBD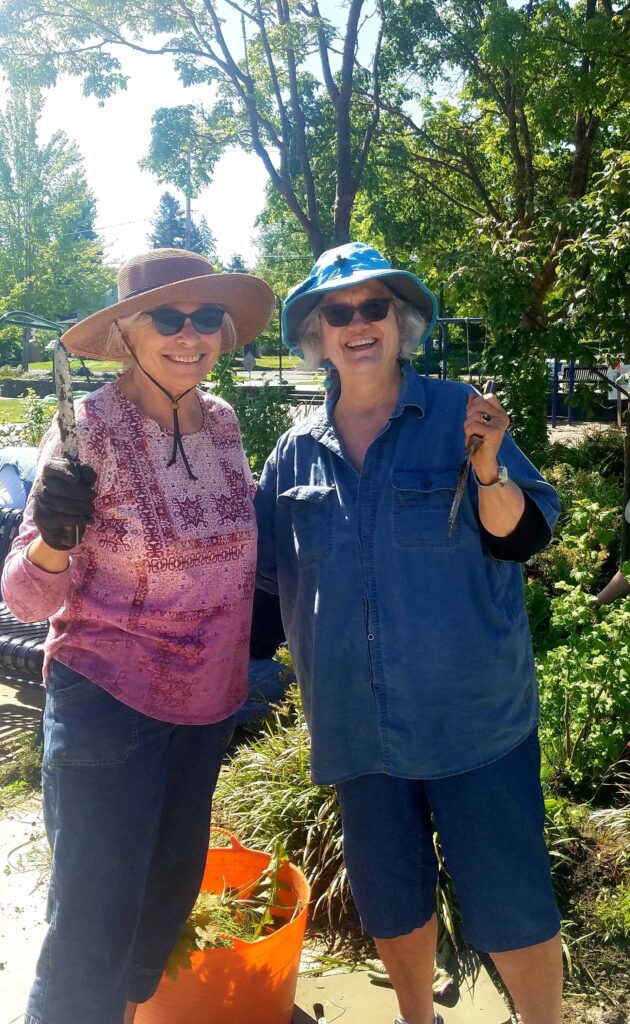 Two Sues – Leaders of the FCMP.
JWN/Friends of Charnel Mulligan Park formally Adopts Charnel Mulligan Park
---
Park Mural Project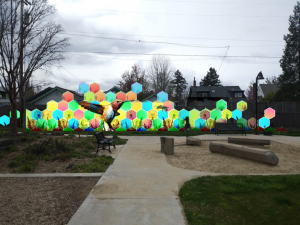 Original artist conception

Jefferson Westside Neighbors is pleased to announce the completion of the pollinator mural ("Honey Forever") at Charnel Mulligan Park (December 2020). The mural was funded under the Neighborhood Matching Grant (NMG) program (#2020-03519) in 2019 but was COVID delayed until fall 2020. A formal dedication is TBA (vaccine dependent).
Neighborhood volunteer Stacy Morris (formerly Zinniker) led the project and it simply would not have happened without her tireless dedication. David C.P. Placencia, founder and Director of Wheelhaus Art Studio, designed and did the primary artwork with the help of his students and over 30 volunteers working over 200 hours. We would like to thank Sean O'keefe for the use of his fence, Rick Brown for the mural installation, John DeLuca who came up with the pollinator idea, as well as Rodda Paint for donating all the paint. Also, special thanks to Forrest Paint, Jerry's Home Improvement Stores, Cornucopia, BRING, and Autohaus for their generous support.
The mural is titled "Honey Forever" in honor of the artists stepmother who passed away from cancer during the project's final stages (her nickname was Honey).
We hope to both expand this mural along the fence line and schedule an annual event celebrating pollinators and gardening.
---
The City of Eugene, Eugene Police, and JWN leadership agree that the future success of this park depends upon a committed partnership with neighbors.  Please join us!
The  mission statement for the FOCMP:

To partner with the City of Eugene, the Eugene Police Dept., and other relevant entities to promote safe and welcoming activities and events in Charnel Mulligan Park; to organize periodic work parties; and to encourage and support Park Watch and other park monitoring and policing activities.
Members (partial list)
Tom Happy
Jeff Lake (member of JWN Neighborhood Matching Grant and Events Committees)
Berry Broadbent (JWN 2017 Nominating Committee)
Nils Stark (co-owner Cornucopia Restaurant)
Sue Cummings
Susan Connolly
Charnel Mulligan Park is open!
Jefferson Westside Neighbors Summer Picnic Potluck and Charnel Mulligan Park Grand Opening Celebration a EUG Success!

Charnel Mulligan Park enjoyed its grand opening and the JWN Neighbors celebrated its annual picnic with more than 400 cheering neighbors under cloudy, yet dry, skies on Thursday, June 15. The event began at 5pm with a parade, led by the One More Time Marching Band, from Wayside Park at 15th and Charnelton to the newly-renovated Charnel Mulligan Park.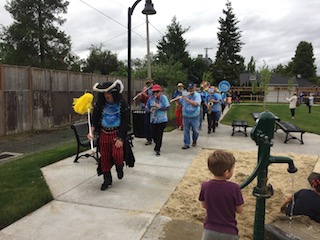 City of Eugene landscape architect and planning project manager Philip Richardson welcomed the crowd and explained the history of the park's renovation, noting the involvement of JWN Neighbors, New Hope Church, the Eugene Police Department, Park Watch, Cornucopia, the National Association of Realtors, Capstone Settlement Fund, Eugene Parks Foundation, and SEHS Integrated Outdoor Program. As he said, the park represents the best work of a community, "inviting everyone to participate, being transparent, digging into the issues, finding a workable balance." Eugene Mayor Lucy Vinis then cut the ribbon officially opening Charnel Mulligan Park.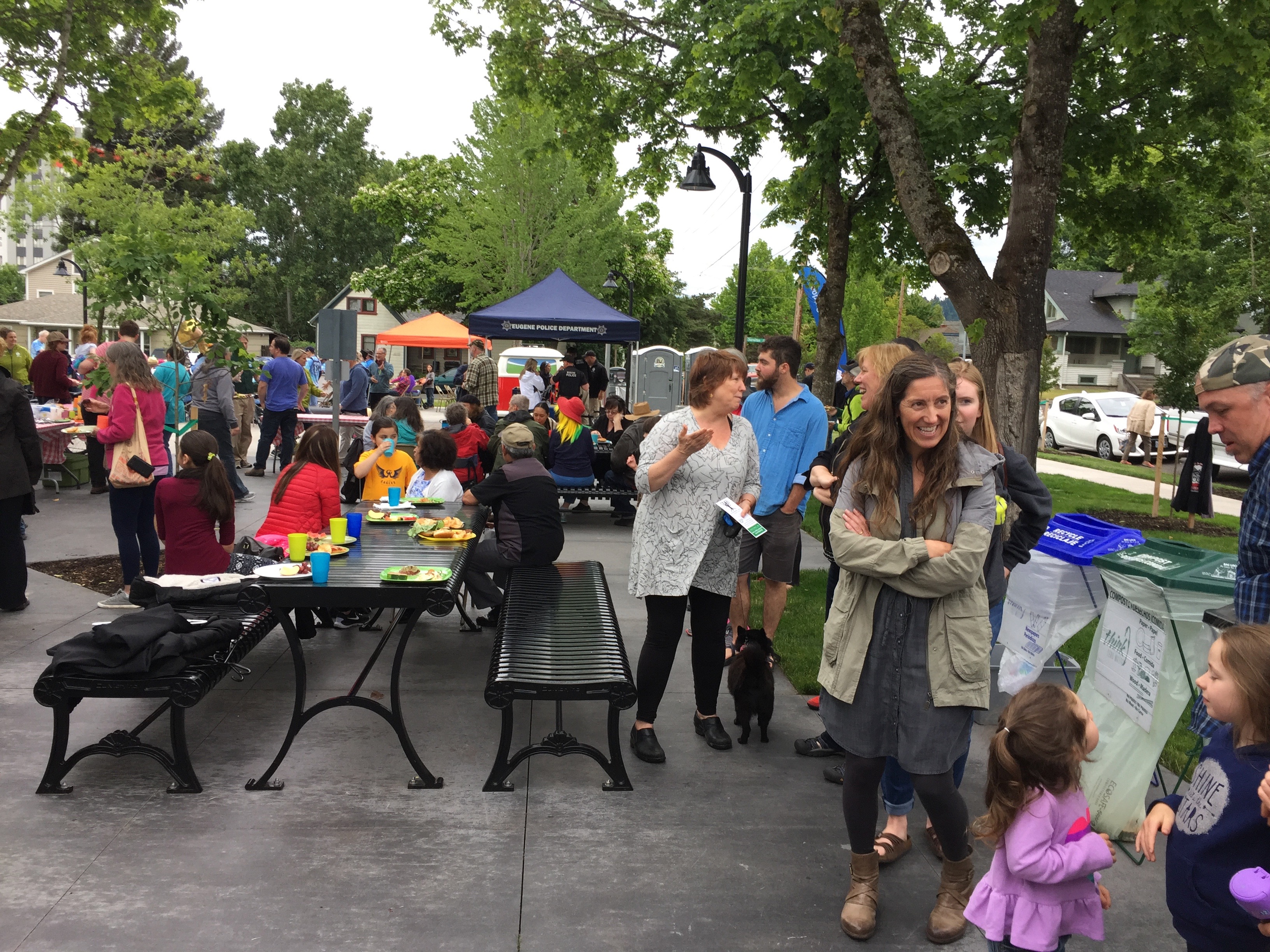 The One More Time Marching Band provided lively music. Friends of Trees offered tree tours of the Park and the surrounding neighborhood. New Hope Church and Cornucopia served up burgers and cake. With support from the Eugene Neighborhood Matching Grants Program, Eugene Sunday Streets gave out free bike and skateboard helmets to kids and adults. Greater Eugene Area Riders (GEARS) promoted safe cycling and the organization's weekly rides. The Eugene Police Department offered tips on neighborhood and park safety. Attendees played Frisbee, twirled hula hoops, and hopped across the fresh grass in a gunny sack race.