JWN has gone to the Dogs!
Visit our Jefferson Park Dog Off Leash Area located behind Lane Events Center at the entrance to the Fern Ridge Bike Path.

---
Follow us, post pics, set-up play-dates and more on our Facebook page!
---
Join us!

We are in the process of negotiating with Eugene Parks and Open Space on future improvements to the JP-DOLA. Stay informed and get involved by signing up for our Google Group – contact jwneugene@gmail.com for an invitation.
---
Dog Off Leash Area vs a Dog Park
A dog off leash area is simply an area where it is legal to have your dog off leash. It is similar to other open space, in this case Jefferson Park is designated a "natural area" and is not a developed park. While these is some fencing, it is there to avoid conflict with Fern Ridge Path users. A dog park is a fully fenced and access controlled space for dogs to play off-leash.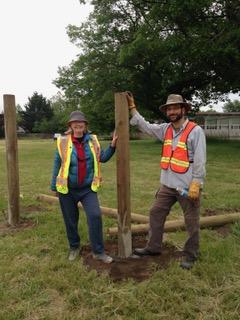 ---
Park News

TBA
---
Background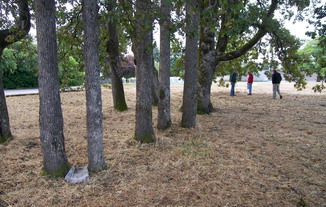 After a long process and prodding by neighbors, parks has initiated a semi-fenced dog park pilot project at the currently undeveloped Jefferson Park behind the fairgrounds at 15th. This is a great opportunity to revitalize this neglected area and dissuade illegal activities. Presently, there are no dog parks in Jefferson Westside.
As part of the Jefferson Park Dog Off Leash Area process, the JWN is applying for a Neighborhood Matching Grant. The grant is to "make improvements to existing undeveloped park to change usage of the park to a DOLA for neighbors of the dense downtown urban area to exercise their dogs off leash. This park improvement is a collaboration with the City of Eugene Parks & Open Spaces department."