Due to persistent problems with long-term car camping (particularly RV and bus conversion "travelers" during summer months) and the resulting trash and problematic activity, abandoned and long-term "remote" stored vehicles, and parking violations that pose safety risks, neighbors in the Monroe Park area are considering a Residential Parking Permit (RPP) zone.
If you are interested in volunteering for this process to set proposed rules, gather signatures, or have feedback, contact us at jwneugene@gmail.com.
If you live in an area not included below, but want to institute an RPP, please let us know. It is all based on demand.
Monroe Park Residential Parking Permit Zone
Fact Sheet
The permits pay for the patrols and signage. Citations comprise less that 20% of revenue.
Why Consider a Permit Zone?
Parking control officers do not ordinarily patrol areas without a permit zone because the zone pays for the officer's time. So, parking rules are more evenly enforced, which improves street safety.
Permits eliminate multi-day car camping, but do allow for "one-and-done" overnight sleeping in vehicles because there is no overnight enforcement. This mitigates problematic car camping behavior while not burdening respectful campers.
Permits eliminate "remote storage" of vehicles.
Permits expedite the removal of abandoned vehicles.
Permits create a cost for what might be an extra vehicle, thus encouraging people to donate or sell it.
Permits encourage people to use available off-street parking, thus freeing up on-street parking for guests and those with no other options.
Residential on-street parking is a benefit that is paid by all but used by just some.
Issues with Permit Parking
Costs: Even a minimal cost is still an extra expenditure, which can be an added burden for low-income residents.
Hassle: Having to take the time to get a permit and renew it.
Equity: If you have no off-street parking where you live, you are forced into buying a permit whereas those with off-street parking do not.
Proposed Zone Area
This is the currently proposed zone, but may expand or contract based on neighbor opt-in/outs.
Border on the north up to but not including W. 8th Ave
Bordered on the south up to but not including W. 11th
Bordered on the west up to but not including Jefferson
Bordered on the east up to  Van Buren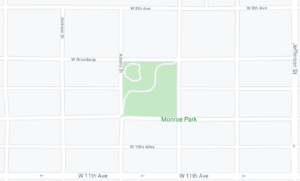 Proposed/rules based on city standards
Days per week: Monday through Sunday
Hours per day 24: enforced 8-6 (approximately) Monday-Saturday (may expand). You can park over-night and as long as you are gone by 9 you are okay.
Free parking no permit: 2 hours
What does it cost?
$40 per permit per year (currently)*.
That comes to: .11 cents per day, .77 cents a week, or $3.33 a month
Who can get a permit?
You must be able to prove residency (same requirements as a library card)
Residences and permits are determined by tax lot
The process is 100% online (no stickers/based on license plates).
How does it work?
Maximum of 5 yearly permits (can get two year permits on request for homeowners or long-term renters [4+ years]) per tax lot.
*You can assign up unlimited vehicles per permit, but only one can use it at a time
Up to 30 single day use permits per month (free) per tax lot. You can assign as many single-day permits at a time (so a guest that stays for a week would use up 7 single day permits)
More than a single day guest permit or over the 30 permits may be obtained by calling. For example, a free service permit for contractors or home healthcare staff based on the contract.
 How does the process work?
Tentative boundaries are submitted to Parking who calculates if the zone is financially viable (pays for itself via permits).
Basic rules are proposed.
All residences are notified via postcard within the proposed zone + 2 blocks in every direction.
Volunteers canvas to ask questions and get votes.
Lease holders (on contract) get half a vote (if 5 people, they get ½ vote)
All Lease holders (on contract) in multifamily dwellings + get half a vote.
Dwelling owners get half a vote.
Owner occupiers get a full vote.
Half vote if house on corner for each street.
The vote is simple majority but technically advisory, the traffic engineer has the final say based on set criteria if the vote is close.
What if I don't want to be in the permit zone?
Before the zone is established you can file a request to be exempted. However, this means the street in front of your property will be clearly excluded from the zone by signage so if likely to attract a lot of vehicles. No recommended.
Area directly outside a permit zone tend to get bigger parking impacts.