Fixing Sidewalks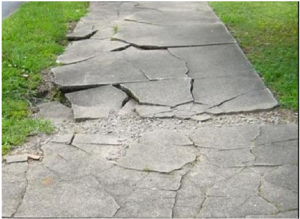 Based on member feedback, the JWN is focusing on a solution to our hazardous sidewalks. With improving infrastructure, reducing our carbon footprint, and pedestrian safety on the agenda at the federal state and local level, we feel now if a good time to push for a better solution. As a first step, the JWN wants to map the condition of our sidewalks and document the impacts that damaged sidewalks have on personal health and safety. We need volunteers to help! Contact us at jwneugene@gmail.com.
A top complaint to the JWN is the tragic condition of our sidewalks. Currently, property owners are responsible for sidewalks and any injuries suffered due to falls. Yet sidewalks are transportation infrastructure and should be maintained like streets – we would not expect homeowners to repair and maintain the streets in front of their homes for obvious reasons.
Sidewalks provide carbon-free transportation as well as health and social benefits, especially for seniors. If the city is serious about carbon reduction and reducing injuries and fatalities in the transportation system via Vision Zero, it needs to include sidewalks as transportation infrastructure.
Many homeowners have limited incomes and sidewalk repairs can be a huge expense. Our goal is to get transportation infrastructure funding to partially or fully subsidize repairing sidewalks.
But first we need data. So if you or someone you know has fallen and been injured, contact the JWN with:
The age and gender of the person who fell. Names are not required (and won't be shared).
A brief description of the injury suffered and if EMS was involved or a trip to the emergency room or doctor was required.
A brief description of the incident (no matter how long ago).
An approximate time of day/year and weather conditions at the time of the fall.
An approximate location of the fall.
Any action taken (report filed, homeowner contacted).
The impact of the fall on walking as an activity.
Changing W. 11th and W. 13th  from One-Way to Two-Way Streets
The Eugene Transportation System Plan 2035 (TSP) identifies projects and goals that help meet citywide objectives, two of which are decreasing the burning of fossil fuels and decreasing traffic-related injuries and deaths. The TSP also identifies changing one-way streets to bi-directional streets to reduce out-of-direction travel and making changes to lower traffic speeds to reduce injury severity. Eugene's Vision Zero, the goal to reduce life-changing injuries and deaths in our transportation systems, identifies a High Crash Network – the 9% of streets that account for 70% fatal and life-changing injury crashes. It is no surprise that the entire length of W. 11th and W. 13th in the JWN are part of this High Crash Network. Reverting these streets to two-way travel will reduce speeds and carbon emissions and increase safety, especially for people looking to cross these streets. The JWN is looking for neighbor feedback on this idea and people who are willing to help with outreach efforts. Contact us at jwneugene@gmail.com.
Trees!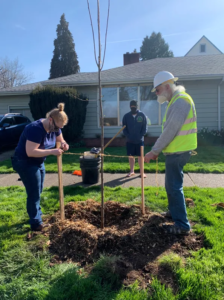 The Jefferson Westside Neighbors area is defined by its many, and often mature large, street trees. It may surprise you that tree canopy cover in Eugene is below the national average and declining by about 1% a year. Increasing citywide canopy cover to 30% (currently it is 23%) is one of six urban forestry goals outlined in Eugene's Climate Action Plan 2.0. Mature street trees help define our community culture. There are many benefits of trees: Trees help mitigate global warming and save energy; help mitigate extreme weather impacts; reduce pollution and make us healthy; make streets safer; make us saner; provide habitat; protect homes from wind and reduce heating costs. While we have a lot of trees in the JWN, we lose some every year, so we need to keep planting replacements. Eugene has room to plant 15,000 new trees! The new selection of approved street trees ensures ease of care and that roots won't damage sidewalks. Working with Friends of Trees, we want to map our "tree holes" – open spaces where street trees can go. Help us add more trees! Contact us and see http://www.jwneugene.org/initiatives/trees/ for more information.