---
Posted April 14, 2020
The City of Eugene is publishing updated information on its response to COVID-19 in this page: https://www.eugene-or.gov/4333/COVID-19-Coronavirus. If you need suggestions on how to support community wellbeing, including mental health tips and some social distancing fun, please visit our COVID-19 Community Wellbeing <https://www.eugene-or.gov/4360/COVID-19-Community-Wellbeing> page.
Information in Spanish is being published here: Nuevo coronavirus (COVID-19) <https://www.eugene-or.gov/4356/Nuevo-coronavirus-COVID-19>. Additionally, here is a list of links with more information on the City's efforts during this crisis:
Community Letter About COVID-19<https://www.eugene-or.gov/4336/Community-Letter-About-COVID-19>
---
Posted April 5, 2020
Useful Links:
How to Recognize and Avoid Phishing Scams
Don't panic about shopping, getting delivery or accepting packages
Recommendation Regarding the Use of Cloth Face Coverings. New CDC guidelines recommend all people wear cloth face coverings in public settings where other social distancing measures are difficult to maintain such as grocery stores and pharmacies. Healthcare providers across the region and country are still in critical need of medical grade N-95 masks. The City of Eugene continues to request that the public reserve N-95 masks for healthcare workers and first responders. Individuals or businesses that have access to new N-95 masks or other PPE can donate them to Lane County. New PPE is being collected Monday-Friday from 2:00 p.m. to 4:00 p.m. at Lane County's warehouse (3050 N. Delta Highway, Eugene, OR 97408).
The directions for an homebrew N95 mask is below. If you can sew, make masks and distribute, if you can't sew, partner with someone who can and buy materials. Contact us if you are interested.
Directions for making masks: https://drive.google.com/file/d/1fW_Qrv_1J26Lgd1kawSWqqyKvbYOY2Fu/view
Mask patterns: https://drive.google.com/file/d/1gaiM3yZLalU1_7mlMeLR-3967A8cEu5H/view
---
The new Coronavirus may not show sign of infection for many days. How can you know if you are infected?  By the time you have fever and/or cough and go to the hospital, the lung is usually 50% fibrosis.
Taiwan experts provide a simple self-check that we can do every morning:  
Take a deep breath and hold it for more than 10 seconds. If you do this successfully without coughing, without discomfort, stiffness or tightness, there is no fibrosis in the lungs; it basically indicates no infection. In critical times, please self-check every morning in an environment with clean air.
Serious excellent advice by Japanese doctors treating COVID-19 cases:
Everyone should ensure your mouth & throat are moist, never dry. Take a few sips of water every 15 minutes at least. Why?  Even if the virus gets into your mouth, drinking water or other liquids will wash them down through your throat and into the stomach. Once there, your stomach acid will kill all the virus. If you don't drink enough water regularly, the virus can enter your windpipe and then the lungs. That's very dangerous.
Please send and share this with family and friends. Take care everyone and may the world recover from this Coronavirus soon.
IMPORTANT ANNOUNCEMENT – CORONAVIRUS:
1. If you have a runny nose and sputum, you have a common cold.
2. Coronavirus pneumonia is a dry cough with no runny nose.
3. This new virus is not heat-resistant and will be killed by a temperature of just 26/27 degrees C.  (About 77 degrees F.)  It hates the Sun.
4. If someone sneezes with it, it goes about 10 feet before it drops to the ground and is no longer airborne.
5. If it drops on a metal surface it will live for at least 12 hours – so if you come into contact with any metal surface, wash your hands as soon as you can with a bacterial soap.
6. On fabric it can survive for 6-12 hours. normal laundry detergent will kill it.
7. Drinking warm water is effective for all viruses. Try not to drink liquids with ice.
8. Wash your hands frequently as the virus can only live on your hands for 5-10 minutes, but – a lot can happen during that time – you can rub your eyes, pick your nose unwittingly and so on.
9. You should also gargle as a prevention. A simple solution of salt in warm water will suffice.
10. Can't emphasis enough – drink plenty of water!
THE SYMPTOMS:
1. It will first infect the throat, so you'll have a sore throat  lasting 3/4 days 2. The virus then blends into a nasal fluid that  enters the trachea and then the lungs, causing pneumonia. This takes about 5/6 days further.
3. With the pneumonia comes high fever and difficulty in breathing.
4. The nasal congestion is not like the normal kind. You feel like you're drowning. It's imperative you then seek immediate attention.
How to Disinfect Surfaces
Alcohol is the best and most convenient disinfectant for surfaces. Just don't: 
a) 
Set it on fire! 
b) 
Breathe too much. 
c) 
Drink too much. Or 
d) 
let it evaporate too much.
Good reusable/disposable cloths for alcohol wipes
They're back-ordered on quarts, but I had no problem ordering the 1 gallon of Ethanol:
$ 15.00 Hazmat
$ 59.00 200 proof ethanol
$ 18.00 shipping
$ 92.00 total
$36.46 per 1.5 Liter, lower cost than Grain Alcohol from the liquor store and 33% stronger than 151 proof Grain Alcohol available in some liquor stores.
(The 190/192 proof Grain Alcohol seems to be hard to find in liquor stores.)
---
Posted March 30, 2020
Promote the practice of everyday preventive actions. Share health messages and materials developed by credible public health sources, such as Lane County Public Health, the Oregon Health Authority or the Centers for Disease Control and Prevention (CDC). Read more about everyday preventive actions.
Here are some websites and social media feeds we recommend  – their information is updated frequently.
Consider establishing a "buddy" system to ensure vulnerable and hard-to-reach community members in your neighborhood stay connected to COVID-19-related news and services. Encourage people in your neighborhood to seek out a "buddy" who will check-in with regularly.
Help counter stigma and discrimination in your community. Some groups of people who may be experiencing stigma because of COVID-19 include persons of Asian descent, people who have traveled abroad and emergency responders or healthcare professionals. Engage with stigmatized groups and speak out against negative behaviors.
Help direct donations. Here's a link to our new webpage where the City is seeking donations of critical emergency supplies and fielding requests for needed item and support.
https://www.eugene-or.gov/4350/COVID-19-Resource-Needs
Share opportunities to help. As opportunities to help arise, share them with neighbors. Watch the City's website and social media feeds – we will post information once we have it. You can also check our local United Way website for updated opportunities.
Share information about how your association is responding to the outbreak with other associations and the City – we can all learn from each other.
---
Posted March 24, 2020
Oregon is now under a stay at home order.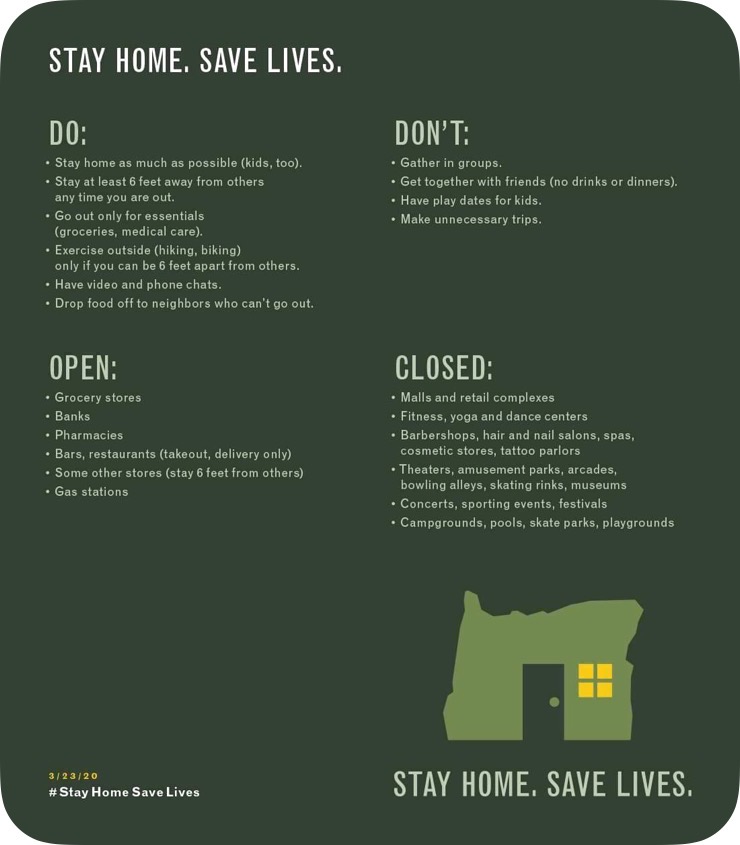 ---
Posted March 19, 2020:
Please see our Stay Apart, Together Special eNews
The Lane County Mutual Aid network has organized to respond to the needs of the community in light of the COVID-19 pandemic. We collectively have the capacity to move through this crisis with love, compassion, and a dedication to justice.
This crisis has highlighted the flaws in our current system. Due to structural inequality, economic disparity, inaccessible healthcare, and an inadequate response from all levels of government, we are all at risk. Because of this reality, we have chosen to act.
We have live forms to Request Aid and Volunteer Aid (Spanish versions: Request Aid and Volunteer Aid), which seek to connect people to existing services and each other, and are eager to create a region-wide network of Neighborhood Point People who are keen to the needs and resources on their block.
Through this mutual aid effort, neighbors can communicate to identify and respond to each other's needs in a way that our federal, state, and local governments cannot. Please fill out a form to request aid or volunteer. You can also find Lane County Mutual Aid on Facebook and Instagram at @lanecountymutualaid, reach out to us at lanemutualaid@gmail.com, or you can call our hotline at (541) 321-8749. Our efforts are only successful when all backgrounds, capabilities, needs, and interests are honored. Together, we can build a better world.
---
Posted March 18, 2020 5:30 pm
This message from Ward 1 Councilor Emily Semple:
Covid-19
This Covid-19 challenge is surreal but all of us must take it 100% seriously. Although this is a situation we all hoped would never happen, we are fortunate to have management, execs and staff who are well trained, knowledgeable, have effective relationships with each other, Mayor and Council, and the community. They are calm and work hard. Please be assured that we are in good hands.
Council has declared a State of Emergency which will give our City Manager Pro Tem, Sarah Medary, access to more resources. We have set up a command center at the 2nd Ave. Fire Station and is implementing plans previously designed for an emergency situation such as this. We are keeping our first responders safe and have excellent communication with our partners in the County and State.
As you hear over and over, because it's critically essential: WASH YOUR HANDS, CONSTANTLY!
Wash your face. Don't touch your face (awareness is the first step, I didn't realize how much I do this).
Stay home, don't visit unnecessarily. Stay six feet away, don't touch each other.
Cover your coughs and sneezes.
Sanitize your doorknobs etc.
BE KIND! Isolation and anxiety will be side effects.
Use social media and the internet if you have it, call and text your friends and family, write a letter — make mail delivery something to look forward to! Keep a journal.
Share with housemates/family you are living with, reach out those you haven't connected with in a while. Check on your neighbors, especially the elderly and health challenged.
ENJOY LIFE! Keep your normal patterns and habits as much as possible.
Get outside. Exercise. Eat well. Sleep. Meditate.
Try new recipes, crafts, hobbies, home repair, find instructions on YouTube.
Read books online, take a class, watch tv and movies. Jigsaw puzzles and games.
Garden. Clean. Write a book. All those things you've put off — think how caught up we will be.
Use your imagination to take advantages of unexpected opportunities.
STAY INFORMED. Knowing what is happening can reduce anxiety and remind us we are all part of a worldwide epidemic. Every day things are changing. It will be interesting and we will get through it, together with each of us doing our part.
City: https://www.eugene-or.gov/4333/COVID-19-Coronavirus Lots of information and links.
County: www.lanecountyor.gov/coronavirus State: https://www.oregon.gov/oha/ERD/Pages/OHA-adds-7-new-presumptive-positive-cases-COVID-19.aspx
Federal: https://www.cdc.gov/coronavirus/2019-ncov/about/index.html
City of Eugene: COVID-19 Community Update
The health and safety of our community is the City of Eugene's top priority. We are writing today to keep you updated on the actions we are taking in conjunction with our public health partners and with our partners at the County, Springfield and across Eugene to slow the spread of COVID-19. You can also access the latest information on the City's Coronavirus webpage at eugene-or.gov/coronavirus.
At noon on Tuesday, March 17, Eugene City Council held an emergency meeting and supported an administrative order declaring a state of emergency. This action is in concert with actions being taken by other jurisdictions, including City of Springfield and Lane County Government. The declaration of emergency authorizes City Manager Pro Tem Sarah Medary to take specific actions to address the COVID-19 emergency including better identifying our changing needs, locating and procuring resources, and ultimately better serving the needs of the community and our region.
We have activated our City's Emergency Operations Center that is working in conjunction with our partners at Lane County and City of Springfield to maintain critical services, identify community needs and mobilize coordinated responses.
In addition to the strategies put in place by Governor Brown and to help slow the spread and protect each other, the City has made the following adjustments to services with guidance from Lane County Public Health and in consultation with our expert emergency response staff:

Suspended all public meetings;
Temporarily closed all libraries, community centers and pools and suspended programming;
Temporarily closed the Hult Center and suspended all programming.
Modified services across the City can be found and will be updated online at eugene-or.gov/coronavirus.

Emergency services will not change. We will continue to respond to emergency calls for service, in progress crimes, other high priority life/safety issues, and incidents that require evidence gathering. Our police, fire and medical personnel have the equipment, training and protocols they need to protect themselves and community members.
We are actively working with our homeless service partners and the County to help identify and meet needs to reduce the spread of COVID-19 among people who are unhoused. We have deployed dozens of handwashing stations in strategic locations throughout the community, including downtown. We are finding alternative shelter options and making sure shelters have the supplies and information they need to safely serve people who are unhoused.
We recognize this event significantly impacts many sectors of our business community. We are working closely with economic development partners, including the Eugene Area Chamber of Commerce, Lane County, the Small Business Development Center at Lane Community College, and Business Oregon, to provide assistance to area employers.
What Can You Do to Help
Healthy behaviors:
Cover your cough. Cover coughs and sneezes with a tissue and then throw the tissue away. If you don't have a tissue, cough into your elbow.
Wash your hands often with soap and water. Use hand sanitizer if you don't have access to soap and water.
Avoid touching your face, especially eyes, nose and mouth.
Stay home if you are sick. Avoid contact with people who are sick.
Social distancing:
Don't shake hands. Avoid unnecessary contact by not shaking hands, hugging or kissing as greetings. Find other, non-contact ways to say hello.
Leave space. Maintain a 6-foot radius between yourself and others in public spaces. (Droplets that may carry influenza and COVID-19 can commonly travel up to 6 feet.)
Think it through. If you would normally reconsider attending an event during flu season, reconsider it now. People over 60 and those with pre-existing respiratory, cardiac conditions, or who are immunocompromised should avoid all large gatherings.
Help each other:
Check on your neighbors – Offer to run errands or get groceries for someone who might not be able to go themselves.
Reduce stigma – COVID-19 is a virus that does not see racial, religious, or any differences between humans.
Support local organizations with donations.
Support local businesses and arts and cultural organizations by buying gift cards, tickets for future events or ordering take out
By slowing the spread of COVID-19, we can preserve our health care capacity which will be critical in the coming weeks. Thank you for all you do to help keep yourselves and each other safe and healthy. It will take all of us working together to reduce the impact of COVID-19 in our community.